For every parent, having kids at home makes maintaining a child-friendly atmosphere a priority.  However, it's no secret that fixing up a family residence, especially with kids around, may be a terrifying process. It is important to consider functionality, security, convenience, furniture, cost-effectiveness, and much more into account.
The good thing is, there are several methods to overcome typical obstacles. Furthermore, just because some people find it challenging to transform their houses into a family-friendly environment, that doesn't mean you should put it off and forego your personal design aesthetics as well.
Explain. Explain. Explain.
It is not a good strategy to let your youngsters awaken by strangers taking their personal things, beds, toys and then dismantle their bedroom altogether without alerting them of your repairs beforehand. Inform them of the modifications you plan to give them ample time to adjust and know what to expect.
Tell them about the exciting new things that you are about to have in your home once the renovation is done. This way, you can also disclose information with them and ask for their opinions on the matter.
Get them involved
The majority of individuals would want to settle down to a place they can call their own, especially if they have growing children. And with staying comes renovating. If your kids are old enough to know and understand, you should let them engage in a regulated but enjoyable manner.
For example, you can let them choose the color they want for their bedroom walls. Or, if your children enjoy playing with pirates or airplanes, ask them how they feel if you build a ship or a plane loft bed. You can also add some airplane-themed pillowcases and blankets to their bed to start enjoying them right away. When they get older, you can make it a hip spot to hang out with by changing the color scheme and adding unique accessories.
The same holds true for storage capacity – as long as it is not age-based. An array of cubes can be used for stuffed toys for the time being or to store books and devices in the future. You may allow your children to customize their area without allowing them to fully take over your design concept.
Build your outdoor playgrounds
There are numerous ways and platforms to enhance and encourage curiosity and sensory play at home. For instance, if your child is into various sports, consider building yourselves a backyard court installed with child-friendly basketball surfacing. Letting them be children while ensuring that they are safe and secure will help you strengthen your family relationships with them later on.
Consider putting together an obstacle course to get your kid's adrenalin rush moving or an innovative set-up such as swings, seesaws, an outdoor princess castle, or even a cooking play area. Making sure that your kids have plenty of time and places to play will stimulate their growing minds and keep them entertained throughout the day.
Take note of the location and the level of privacy.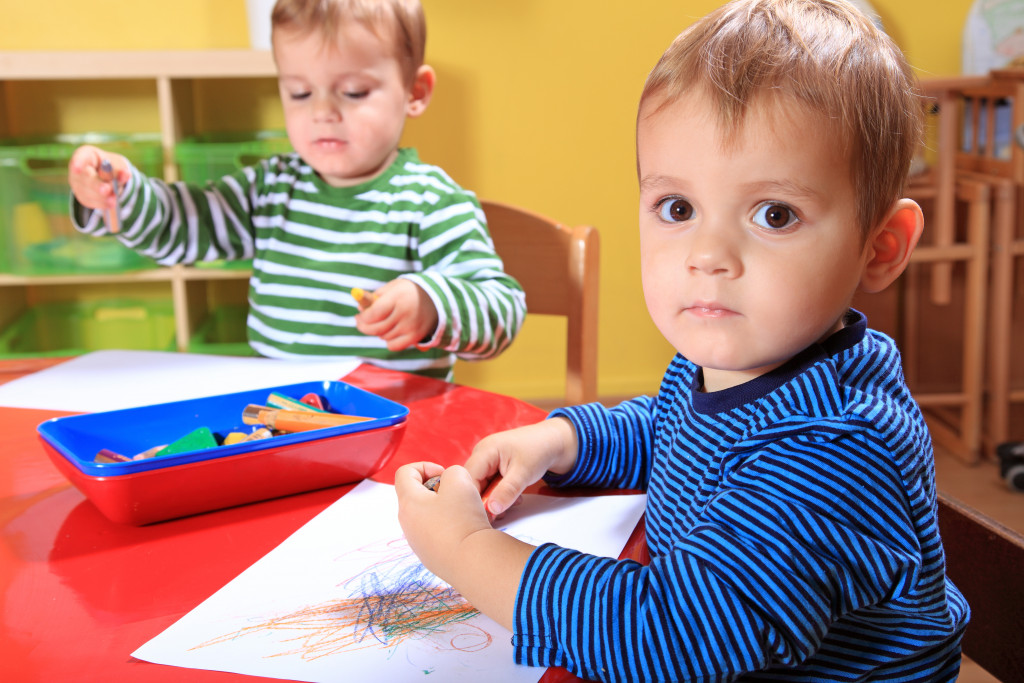 The age of your child may assist you in determining where their rooms should be located. If you're reconstructing your property and accommodating a big family, consider including a kid's wing, with at least one washroom that they can all use. If your children have different and huge age gaps, you can create specialized playrooms or common study areas to save space.
If you have younger kids, you may also want to consider placing their rooms closer to the master bedroom than the others. Teenagers' bedrooms may be better positioned further away from each other to provide them — and you — with more privacy.
Weigh your options on built-in pieces
While built-ins might save you more spaces, they are also irreversible. However, if you keep them simple and with a basic style, they will grow alongside your children. For instance, a drop-down tabletop for coloring or assembling Legos may be transformed into a workstation for doing schoolwork in the future.
The use of built-in bookcases and drawers can benefit children of all ages. The style and color may be changed to make the shift from toddlers to adolescents easier. As an example, built-in pirate-style beds allow you the flexibility to utilize the drawers for toy storage today and to store bedding for future slumber parties and playdates.
Remember that you are renovating your home to build a safe place for your children to grow and develop to the best of their abilities. Talk to them and ask them about their opinion and consider their interests. You don't have to make it complicated and purchase expensive items. The only thing you need to do is make a thorough strategy and stick with it.