Fencing is an integral part of your sports surface installation. Fencing adds in both form and function of your sports court. An enclosure adds to its beauty, increasing its visual appeal.
The Perks of Fencing Your Sports Court
Installation of fencing for your backyard sports court might mean additional expenses, but it more than makes up for every dollar you spend. A well-designed and properly installed sports court fencing can give you the following benefits:
Contains errant balls, protecting your property and neighbors
Maintains the flow of your game
Keeps pedestrians in the nearby street safe
Reduces risks of lost balls, especially tennis balls
Keeps away trespassers and intruders
Keeps away pets and stray animals
Keeps away vandals
Boundary demarcation between different courts or between different parts of the ground
Gives you a pleasing overall aesthetics
Types of Sports Court Fencing
There are many types of sports court fencing options that you can choose from. If you are considering to install fencing for your backyard sports ground, it is crucial to select the type of fencing that you will use. Each type comes with its own set of pros and cons. Thorough research will help you make a sound and right decision.
Chain-link Fencing
Chain-link fencing is one of the most common types of sports court fencing, especially for tennis courts. Chain-link fencing gives the most visibility, so it is ideal if you have spectators for your games. You can have the option of building it a bit taller to contain errant tennis balls.
Chain-link fencing also adds security to your place. When you and your friends are too caught up in a game, the fence will ensure your safety and that of your personal belongings. If you want to spruce things up, you can also have it painted to match the surroundings.
Chain-link fences are durable, weather-resistant, and long-lasting. They are made from galvanized or LLDPE-coated steel wires that form the diamond patterns characteristic to this type of fence.
You can also use a chain-link fence for basketball court fencing. It will help to keep the ball from rolling away, and at the same time, protect your property and spectators.
Wire-mesh Fencing
Another popular type of fencing that you have probably heard about is welded wire mesh fencing. A wire mesh fence is a steel fence made with wire strands welded together to form a high-strength and durable mesh. It is available in two types: rolled mesh and rigid mesh.
Like your chain-link fence, a wire mesh fence allows for visibility inside the court. Wire mesh fencing is weather-proof, low maintenance, and built to last a lifetime.
Wood and Lattice
For your backyard tennis and basketball courts, you have the option to make it more classic and appealing with wood and lattice fencing. Wood fencing cannot be made as high as a chain-link fence, but it can be made high enough to block some balls from going to your neighbor's yard. Wood and lattice are not as spectator friendly as chain-link and wire-mesh fences, but it offers you enough privacy and can protect the rest of your property as well.
Vinyl Fencing
Vinyl is usually used to fence tennis courts, or to separate multiple courts. They are more like nettings that can prevent any stray ball from going over the fence. They can be made tall enough to keep your tennis balls from flying off beyond your yard. It also provides you with more privacy. However, they are not so great if you want to have some audience in your game.
Things To Consider When Designing Your Sports Fence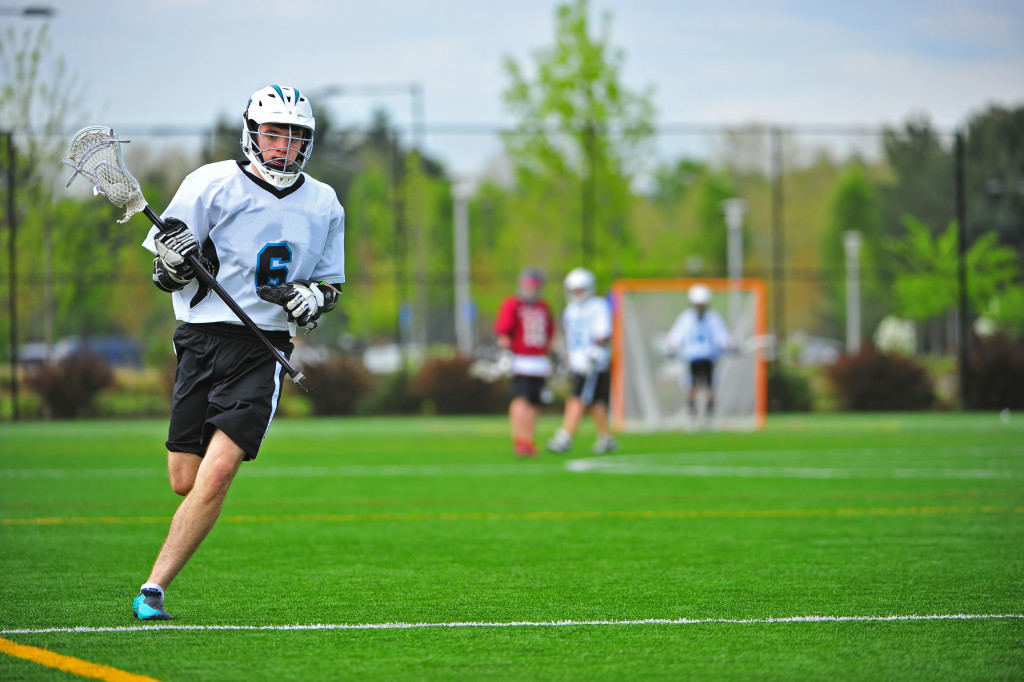 When choosing the type of and designing your fencing, here are the factors that you should also consider.
Privacy
If you do not want passersby and neighbors to spy on your games with friends, you will need a thicker mesh or a double mesh for better privacy. If you have fencing around your whole property, then privacy might not be an issue.
Height
Standard sports court fencing is usually 10 feet high. The height is applicable for both tennis and basketball courts.
Wind Control
Wind control is essential in the fencing of tennis courts. Fence screens allow you to block crosswinds, but still, let some air in. Depending on how windy it can get in your area, you might have to fence all sides of the court, or just two.
Spectator Visibility
If you plan to have a seating area for friends and family who want to watch your friendly games, then you might leave that side uncovered, or you can use a chain-link fence.
A fence can instantly uplift the look of your backyard court. The many safety and privacy benefits of a sports court fencing make it a must-have for residential sports courts.