With so many things to consider, a bathroom renovation project can be a daunting task. You have to think about things like lighting, materials, plumbing fixtures, and the electrical system. And that doesn't even include the design element yet. You can't just shoot in the dark when doing a bathroom renovation. If you want to design the best bathroom for you and your family, you need to create a plan and execute it properly.
A bathroom has to meet three criteria: it has to be practical, it has to last for a long time, and it has to look good. Practicality and durability are the easy parts. You just have to pick out the plumbing fixtures that you need and make sure they're from a reputable brand. The design component takes a little more skill, though. A good bathroom should look effortless.
1. Organize the layout
Even if you limited space, you need to make sure that each functional part has enough room to breathe. For instance, if you place a freestanding bathtub in a cramped corner, the tub might look boxed in on certain sides. Not only will the design suffer, but it will also make for a more cramped-looking bathroom.
You want your bathroom's focal point to be something other than the toilet. Use bathroom vanity units or a freestanding bathtub to tie the entire room together. The toilet should be tucked in a corner, prominent but not too overbearing.
2. Rethink the tub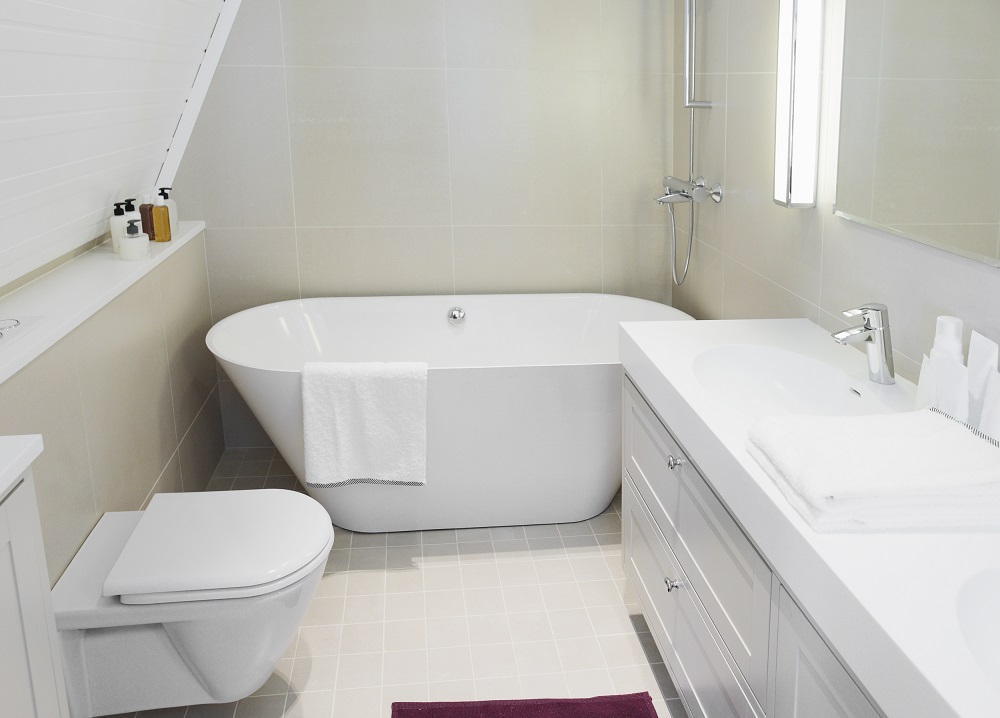 Shower stalls are more practical than a bathtub, especially if there isn't enough space for both. However, some people might be tempted to put a tub in just in case they want to sell their home in the future. Bathtubs, while a desirable feature, are not necessary.
If you still find it challenging to choose between the two, always remember that practicality takes precedence. Just because you take a bath once or twice in a while does not mean you need one in your bathroom. Instead, use the budget to splurge on extras for your shower stall.
3. Install proper lights
Nobody wants to use a dim bathroom. Not only does it look sad, but it's also downright dangerous. A super bright one isn't that good either. If you have to squint just to use the shower, you know there's something wrong with the lighting.
Arrange the lighting in a way that maximizes coverage and minimizes shadows. But that doesn't mean you need to use bright light bulbs. Choose warm and soothing lighting to make your bathroom more inviting and relaxing.
4. Use easy-to-maintain surfaces
You might be tempted to splurge on a beautiful marble countertop, but you're just making life harder for you. Instead, use low maintenance materials such as synthetic stone and porcelain.
Natural stone surfaces like marble and granite might look great, but they require more maintenance than synthetic stones. The surface is more porous, which means you need to spend more on sealing. You also can't use regular household chemicals to clean natural stone.
Bathrooms are an essential part of your home, which is why you need to devote time and resources to do the renovation job correctly. These guidelines will help you design a bathroom that is functional, easy to maintain, and pleasing to the senses.